Mental Health & Statistics
The teen and young adulthood years are a time of growth and transition, and the prevalence of mental health problems such as depression, anxiety, eating disorders, suicidal ideation, and self-injury continue to rise. As a result, mental health and suicide awareness issues are at or near the top of every school administrator's list of priorities.  The National Suicide Prevention Hotline's first year was 2005 and they handled 46,000 calls.  In 2017 it answered over 2 million – 25-30% of the callers had suicidal thoughts, while others were distressed or looking for info and resources.  The facts cannot be ignored – our country's teens and young adults are struggling more than ever before.
Suicide
Suicide is the 2nd leading cause of death among 15-24 year olds and the 10th leading cause of death across all ages in the United States in 2017.  Every day, 129 people died from suicide in the United States.
Suicide is a major public health concern.  Suicide rates have increased by 33% in the last 20 years since 1999 in the U.S., yet funding/research lags behind all other top leading causes of death.  The National Institute of Mental Health reports spending on cancer ($6 B), heart disease ($1.37B), Alzheimer's ($1.36 B), and Diabetes ($1.1 B) all greatly surpass the $68M spent on suicide research in 2017.
Americans died by suicide in 2017
Estimated suicide attempts in 2017
Suicide is the 2nd leading cause of death among 15-24 year olds
Over 70% of people who attempted suicide have an anxiety disorder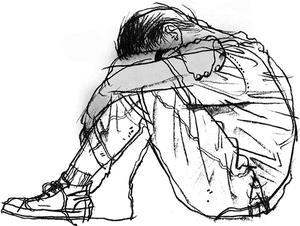 of college students experience significant mental health issues
of teens with anxiety or depression did not seek treatment in 2016
Anxiety & Depression
1 in 5 adults in America experience a mental illness. An estimated 40 million adults in the US, or 18% of the population, have an anxiety disorder, while 16 million adults had at least one major depressive episode in the past year. Meanwhile, one-half of all mental illness begins by the age of 14, and three-quarters by the age of 24. Recent survey data indicate in the past year, three out of five college students experienced overwhelming anxiety, and two out of five students were too depressed to function.