Sponsor KyleCares in 2022-2023
Our 2022-2023 fundraising efforts have been greatly enhanced through ongoing family and corporate sponsorships that help offset our operating costs, enabling us to start sooner with our mission to assist students and schools throughout MA, RI, and other New England states. Your consideration to take a proactive role in joining KyleCares to provide mental health awareness and suicide prevention programs is greatly appreciated.
Please contact us at 508-878-3990 / info@kylecaresinc.org with any questions or to confirm your sponsorship. If you prefer to pay by check please make payable to KyleCares, Inc. Mail to 4 East Spring Street, North Attleboro, MA 02760.
You can find our 2019 Sponsors by following the link below.
KyleCares Appreciation Awards
Battery Global Advisors
Diamond Sponsor
KyleCares Co-Founder Sue Johnson presents Battery Global Advisors CEO John O'Connor with an appreciation award for his firm's Diamond sponsorship.
Estate of George O Johnson, Jr
Diamond Sponsor
Lauren Johnson of KyleCares' Board of Directors presents an appreciation award to George Johnson, Sr for his family's Diamond sponsorship through his late son George Johnson, Jr's Estate.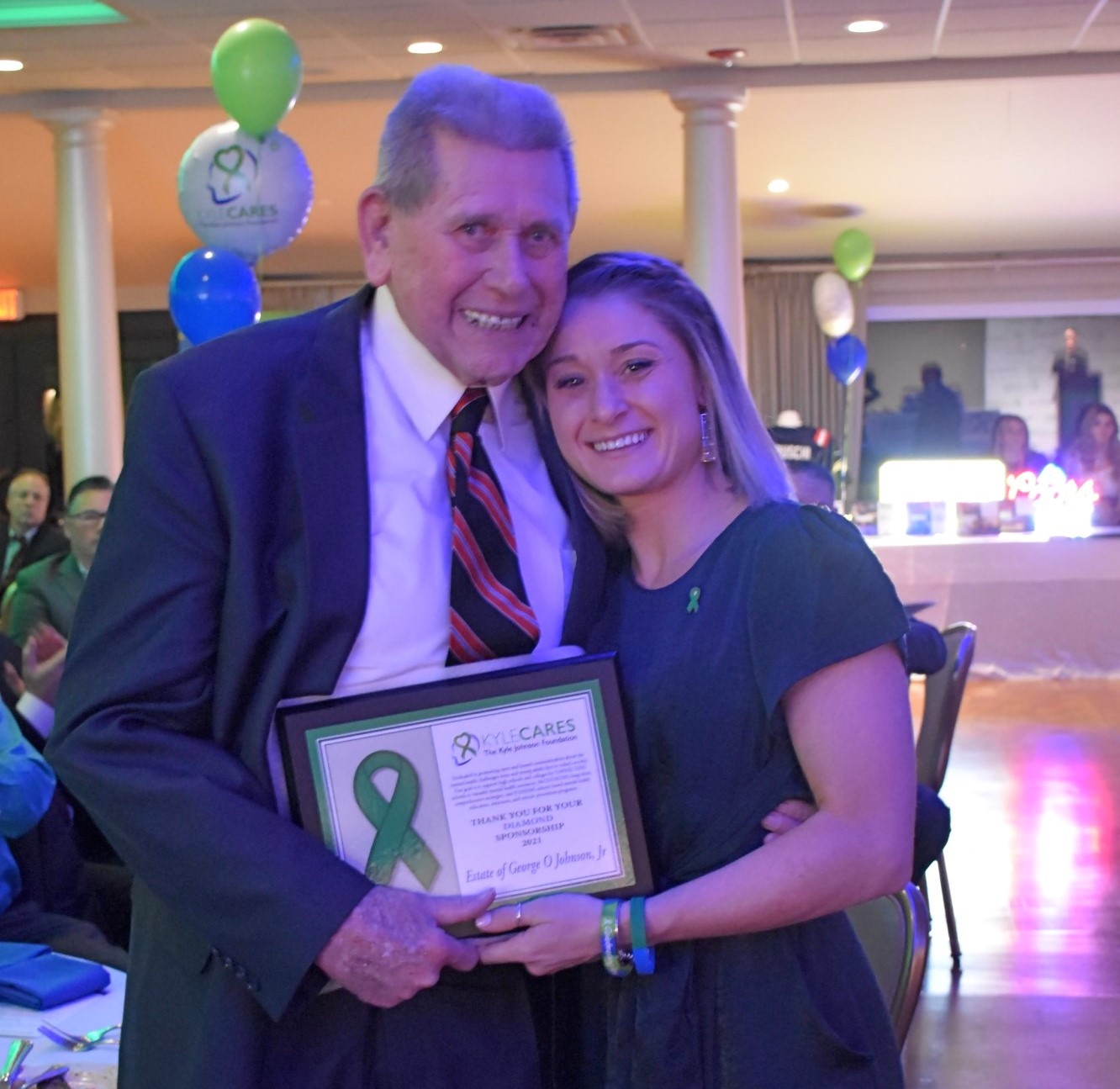 Millis High School Girls Soccer Team
Platinum Sponsor
Board of Directors representative Katie Johnson presents an appreciation award to Olivia Zitoli, Head Coach of the Millis HS Girls Soccer Team, for their generous Platinum sponsorship.
Alyssa Gutauskas Memorial Fund*

*
Steve and Darah Vacher Family


Armand and Michele Brunell
Bronze
Majestic Construction, Inc.
Christopher J. Cornetta Foundation
Monday Night Gridiron Club*
Tighe & Lisa Gillis Family*
Heather & Tony LaFreniere
North Attleboro HS Students Homecoming Canning Drive
Todd, Lynne, and Sydney Croteau
Comprehensive Wealth Planners at Dean Bank
Frank & Renee Strachan Family
Mrs. Carol O'Connor & Family
With Love By Hayley Co. & MindFULL Table
Sponsorship Opportunities
Amount

Description

Level

$500

Certificate

Facebook and Instagram announcement

Company name recognition on KyleCares website

Bronze

$1,000

All of the above, plus:

Logo on website

Silver

$1,500

All of the above, plus:

Logo with link to company's website

Inclusion in press release

Verbal recognition at KylePalooza

Gold

$2,500

All of the above, plus:

Award at KylePalooza

Spotlight in future newsletter

Signage at event

Platinum

$5,000

All of the above, plus:

5 tickets to event

Prominent signage behind podium at event

Diamond

limited availability
In-Kind Donations
KyleCares' work wouldn't be possible without the generous donations of time and expertise from the following businesses:
Leahy, Cody, & O'Donnell, LLC
Law Office of Randy J. Spencer