Schools Supported
We are incredibly proud of the schools below who are making a commitment to their students and faculty by collaborating with KyleCares to deliver impactful mental health awareness and suicide prevention programs. To date we have awarded over $280,000 to New England area school programs and our strategic partners! Since 2019 KyleCares has brought 200 mental health workshops, trainings, and stigma-breaking programs to New England high schools and colleges, directly engaging more than 52,000 students, 2,000 faculty, 900 parents and 100 coaches in mental health education and awareness building.
Board of Directors representatives Lisa Burns and Katie Johnson present Canton (MA) Public Schools Superintendent Derek Folan with a $2,500 KyleCares Grant.
Canton High School – $2,500
With Social Emotional Learning a key part of the school's Strategic Framework, Canton has rolled out several program to address student anxiety and depression. Young Adult Speakers addressed 13 different health classes to inspire conversation and openness about mental health; a Student Wellness Advisory Group was formed, and a new Active Minds Chapter has been started, led by students who encourage each other to learn more and talk more about mental health.
Board of Directors representatives Lisa Burns and Katie Johnson present King Philip High School (MA) Director of Wellness Dorothy Pearl with a $2,500 KyleCares Grant.
King Philip High School – $2,500
King Philip has organized numerous events aimed at increasing knowledge of mental health, including a public screening of the movie ANGST about anxiety which was viewed by students and parents; Suicide Prevention Training for middle school and high school faculty; several presentations to educate parents; and the formation of the school's first Active Minds Chapter, led by students who take the lead in changing the conversation and school culture around mental health.
Co-Founder Sue Johnson and Board of Directors representative Katie Johnson present North Attleboro High School (MA) Principal Peter Haviland with a $5,000 KyleCares Grant.
North Attleboro High School – $5,000
North Attleboro HS is one of the first 50 high schools in the United States to commit to JED High School, a new 2-year, comprehensive approach from The Jed Foundation for high schools to follow that will help assess their current programs and policies, their students' needs, and develop a sustainable strategy over the long term to better support student mental health. This follows other significant steps such as the formation of a student-led Active Minds Chapter, student-developed Stress Management Week, and mental health education presentations for faculty during a recent Professional Development Day.
Board of Directors representative Lauren Johnson and Co-Founder Sue Johnson present Dean College (MA) Director of Counseling Services MaryAnn Silvestri with a $5,000 KyleCares Grant.
Dean College – $5,000
Dean College is doing all it can to address a nationwide problem on college campuses – a dramatic increase in mental health issues and demands for mental healthy services that are outpacing the number of clinicians available to support students. Dean will be administering the Healthy Minds Survey to students to gauge their attitudes about mental health, and the prevalence of issues on campus. A Mental Health Task Force has been formed; students recently participated in a Fresh Check Day to promote mental health and suicide prevention in an uplifting environment; and staff members will soon be certified in Mental Health First Aid to better support their students.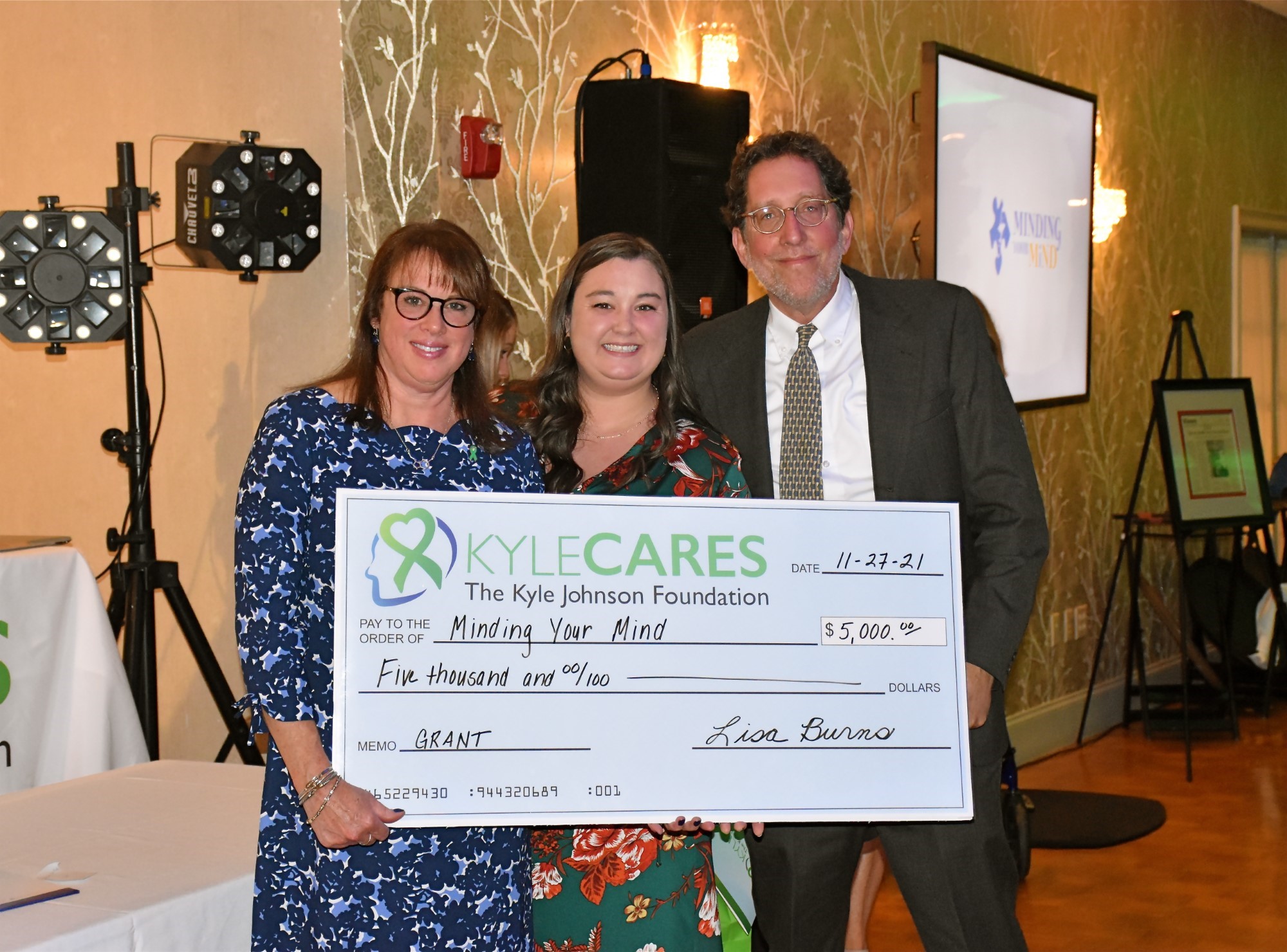 Board of Directors representatives Lisa Burns and Katie Johnson present Clinical Director Jon Mattleman of Minding Your Mind with a $5,000 KyleCares Grant.
Minding Your Mind – $5,000
Minding Your Mind collaborates closely with KyleCares to deliver a variety of solutions and services to provide mental health education to adolescents, teens and young adults, their parents, teachers, and school administrators. These include their Young Adult Speaker series, led by dynamic young adults who share their personal stories of living with mental health challenges; QPR Suicide Prevention Training for faculty; and parent presentations such as "The Secret Life of Teens and Tweens". This grant will enable Minding Your Mind to build upon the 32 different programs KyleCares has sponsored with them for schools since 2019.

Healthy Minds Network – $10,000
This $10,000 grant will be used to support media and outreach through informational videos and webinars, and the development of promotional materials to help increase the number of students and high schools participating in the Healthy Minds Study for Secondary Schools (HMS2), a new survey in 2021 that aims to understand factors influencing high school students' mental health and well-being. Healthy Minds compiles the student survey answers and provides a detailed report to schools that will help with a school's decisions to implement or modify mental health programs and policies to better serve their students.