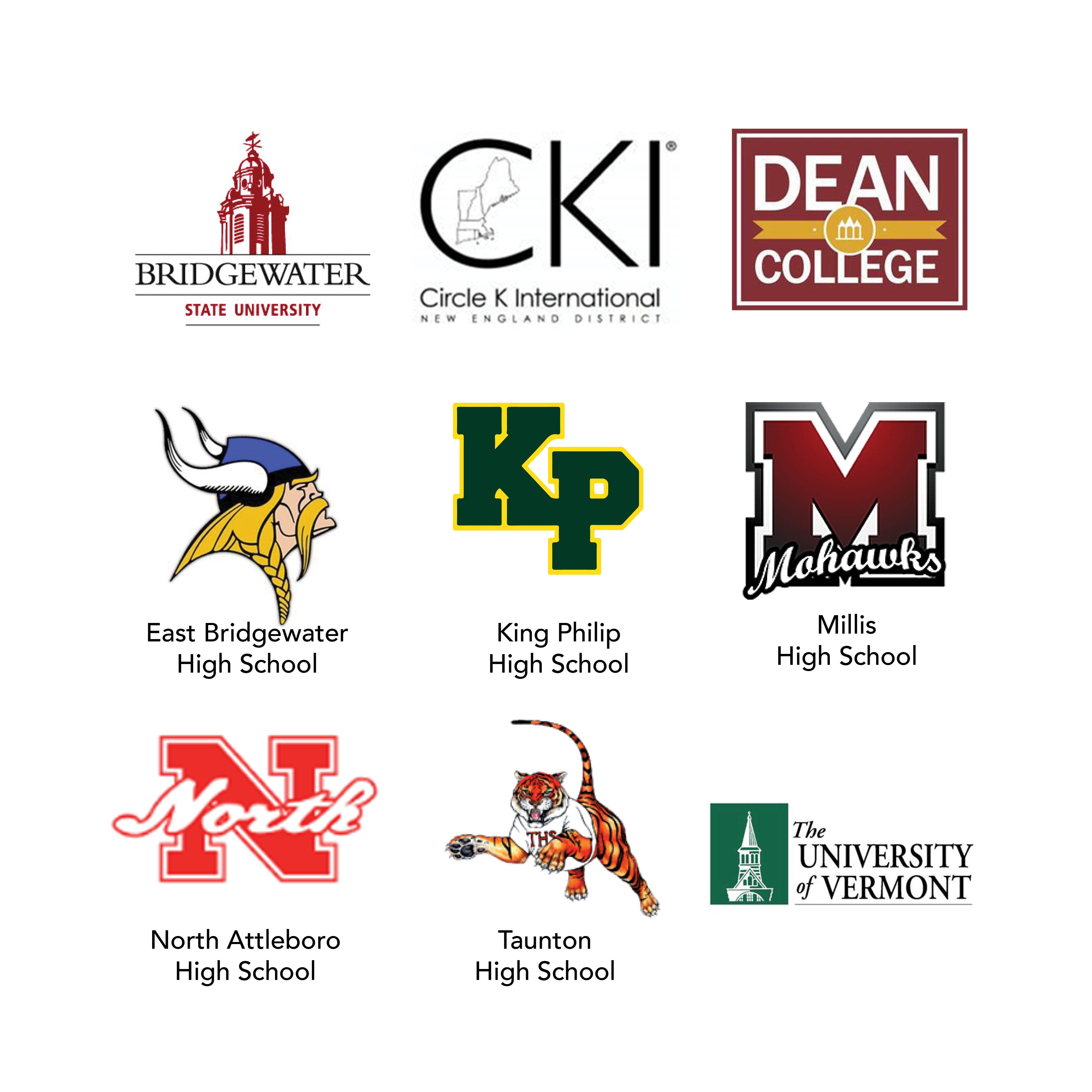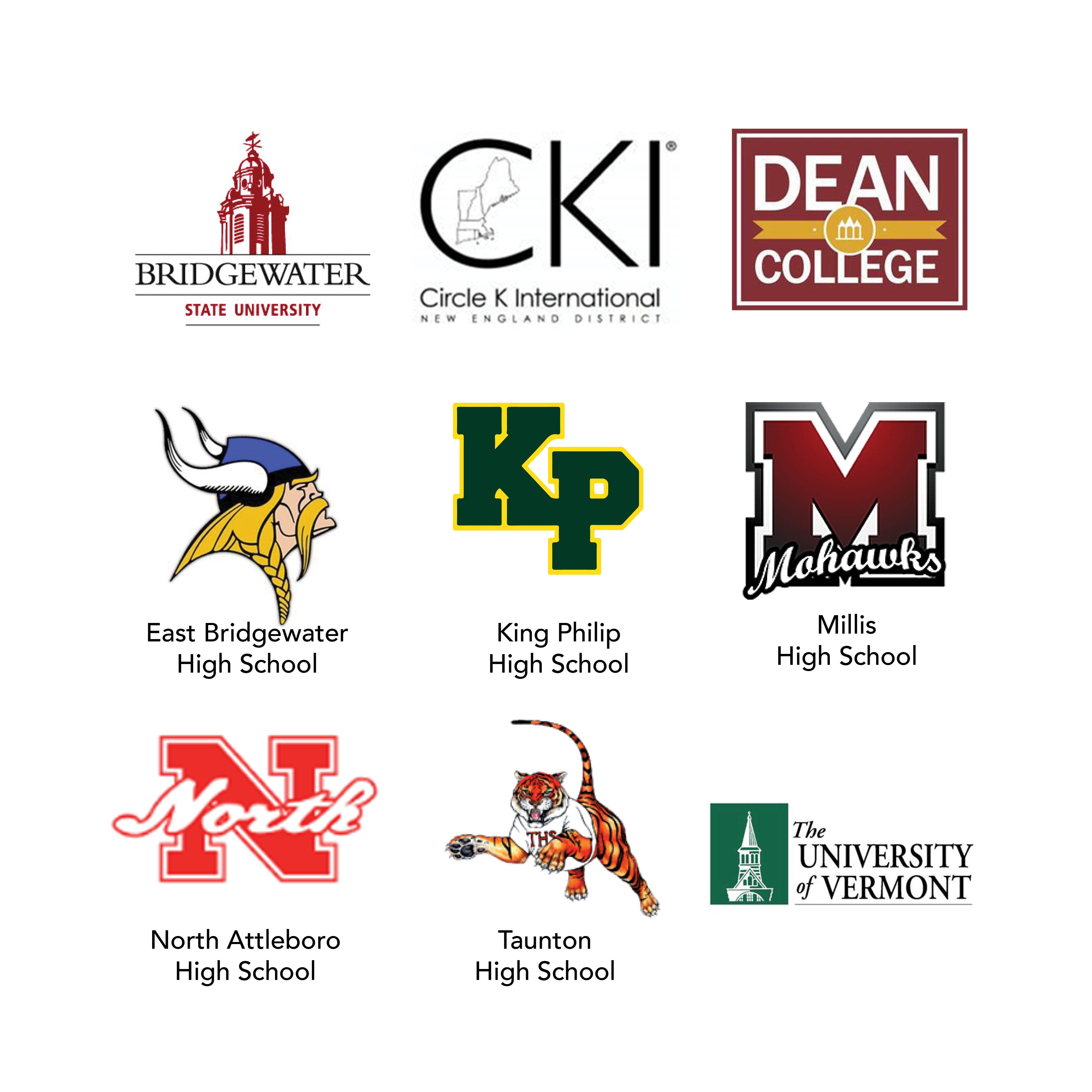 Schools Supported
We are incredibly proud of the schools below who are making a commitment to their students and faculty by collaborating with KyleCares to deliver impactful mental health awareness and suicide prevention programs. To date we have awarded over $69,000 to New England area school programs and our strategic partners! Since 2019 KyleCares has brought 45 mental health workshops, trainings, and stigma-breaking programs to 10 New England high schools and colleges, directly engaging more than 600 students, 390 faculty, and 275 parents in mental health education and awareness building.
KyleCares Co-Founder Jim Johnson presents a $1,500 KyleCares Grant to North Attleboro High School principal Peter Haviland.
North Attleboro High School – $1,500
On May 28, 2019 North Attleboro High School hosted the Minding Your Mind organization for 160 students enrolled in a Wellness class. Minding Your Mind is an organization that provides mental health education to adolescents, teens, and young adults, their parents, teachers, and school administrators. Their goal is to reduce the stigma and destructive behaviors often associated with mental health issues. KyleCares will continue to work closely with the NAHS administration to determine additional programs that could be covered by this Grant for teachers and students during the 2019-2020 school year.
Board of Directors representative Lauren Johnson presents Millis HS principal Bob Mullaney with a $3,000 KyleCares Grant.
Millis High School – $3,000
Millis High School will use this Grant to partner with Minding Your Mind, an organization whose primary objective is to provide mental health education to adolescents, teens and young adults, their parents, teachers and school administrators. A portion of the funding will go toward Q.P.R. Suicide Prevention Training with the staff of the both the middle and high schools. QPR stands for Question, Persuade, and Refer, and the QPR mission is to reduce suicidal behaviors and save lives by providing innovative, proactive and proven suicide prevention training. Millis will also be working with Minding Your Mind on additional presentations to parents and students on social emotional health.
Board of Directors representative Lisa Burns presents Samaritans Chief Development Officer Janet Lawn with a $6,000 KyleCares Grant.
Samaritans – $6,000
For over 40 years Samaritans have been providing life-saving suicide prevention services and nonjudgmental support throughout Massachusetts. Samaritans offer several different types of school-based training workshops to help prevent suicide and open up conversations in schools. These workshops are tailored for 3 different audiences – students, school staff, or parent groups, and Samaritans has provided these workshops to over 135,000 individuals. The $6,000 KyleCares Grant will cover the costs for Suicide Prevention Workshops at 10 different high schools or colleges across the area.
KyleCares Co-Founder Sue Johnson presents Dr. Nance Roy, Chief Clinical Officer of The Jed Foundation, with a $20,000 KyleCares Grant.
The Jed Foundation – $20,000
The Jed Foundation is a nonprofit organization that was founded in 2000 just 2 years after its founders lost their youngest son to suicide, and it has quickly become an industry leader in protecting the emotional health and preventing suicide for our nations teens and young adults. They specialize in partnering with high schools and colleges to strengthen their mental health, substance abuse and suicide prevention programs and systems. This KyleCares Grant will be used to help support JED's signature program called "JED Campus", a program designed to empower schools with a framework and customized support to enhance student well-being and substance abuse and suicide prevention efforts.
Apply for a KyleCares Grant to Start a NEW Active Minds Chapter
KyleCares is thrilled to partner with Active Minds and to offer grants to help you become a leader at your school for mental health awareness and suicide prevention. Apply here for a potential grant to assist you in your efforts.